Dear Hidden Wings Family and Friends,
After a magically creative summer in cinema, photography, and the introduction of Hidden Wings to over a quarter-million people at the 5 Fare Thee Well concerts of The Grateful Dead, we have barely had a chance to catch our breath. This fall we build on the surge of creativity with a larger number of classes, and more opportunities than ever for young adults on the autistic spectrum to find "the right job and a good friend".
Over 200 people and organizations have formally requested that they become chapters or affiliates of Hidden Wings. This represents a real watershed for us. We have never advertised ourselves to be a model for other communities, but we have always believed we could be of benefit to many more – partly because there are so few projects like ours.
Therefore, we are embarking on a whole new phase in our life at Hidden Wings. While maintaining our intimacy and focus on our own students, we will be creating a kind of "cookbook" for others to follow.
Please continue to support us on this exciting phase of helping young adults unfurl the gifts of autism – in Solvang, and elsewhere!
Rev. Jim and Julia Billington, MD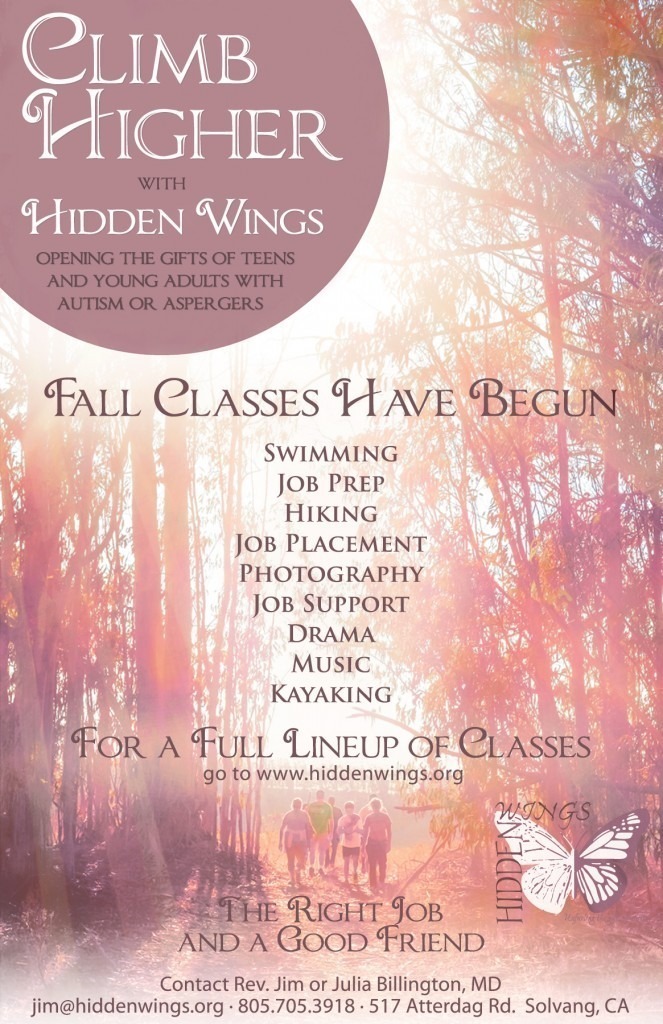 "It is wonderful to see this creativity take flight through Hidden Wings. Congratulations to all."

                                               –Bill Allen, Editor in Chief emeritus, The National Geographic
 

"It is wonderful to see these students so engaged in creative endeavors. Their films are great, and I salute their courage."

   –Tipper Gore

What is Hidden Wings?
Hidden Wings is a place where young people with autism can spread their own wings, learning life skills and
how to participate with others in a warm and supportive environment.
"Hidden Wings is a place where young people with autism can spread their own wings, learning life skills and how to participate with others in a warm and supportive environment. The Billingtons are building a future for every child in their program, which is a model well worth emulating. The world needs many more such havens."   –The Late Oliver Sacks, M.D., Physician, Author, Neurologist
 "There is an urgent need for the work that Jim and Julia Billington have begun. I have known them since they were undergraduates at Harvard. They are uniquely qualified, gifted, and morally centered to take on this task. I wholeheartedly recommend Jim and Julia, and the project "Hidden Wings." I can think of few things more important for the next generation."   –Dr. Robert Coles, Professor of Child Psychiatry, Harvard Medical School, Pulitzer Prize winner for multi-volume "Children of Crisis", Awarded Presidential Medal of Freedom
"(Through Hidden Wings) you are doing your country a great service to your country."   –Amory Houghton, Jr, Former Chairman and CEO of Corning Glass Works
America's Photographer Carol Highsmith captures day of fun at Hidden Wings
Click on Photograph to access Photo Gallery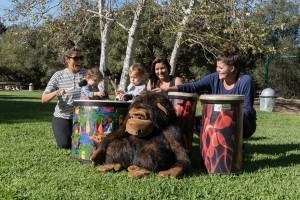 Grateful Dead helps Hidden Wings
How we Drum at Hidden Wings
(Back by Popular Demand)
 Next Month, Back to Drumming "On Top of the World"
---
Our Facebook Feed: