Slideshow
The Unfurled Wings of Autism: Kevin Hosseini and Paintings of Light
On September 12, Kevin Hosseini received an Award for Excellence by Ambassador Jean Kennedy Smith in Washington D.C., where his stunning painting "Bus or Cycle" was put on display at the Smithsonian's Dillon Ripley Center. Ambassador Smith, the last Kennedy in the generation of John, Robert and Edward, had this to say: "Kevin has been an active member of Hidden Wings since its inception. Kevin's mother was part of the small group of parents who designed the school back in 2007-2008." They make quite a mother and son team, exemplifying the family nature of Hidden Wings. Kevin has been a prodigious painter since age 9, whose paintings have twice won the VSA award, and in 2011 he was honored with an award for Visual Artist 18 and under by Naturally Autistic in Vancouver, Canada.
Read more about Kevin Housseini's trip to Washington.
An Artist Arising
When you visit the new Hidden Wings center you will see Kevin's luminous paintings on all our walls. He paints with a great love of texture and color, and they make Hidden Wings truly come alive with canvasses of Butterflies, Tropical and mountain scenes. You might also see Kevin at our drumming sessions by the shore, or kayaking in the ocean, or a hike on Grass Mountain.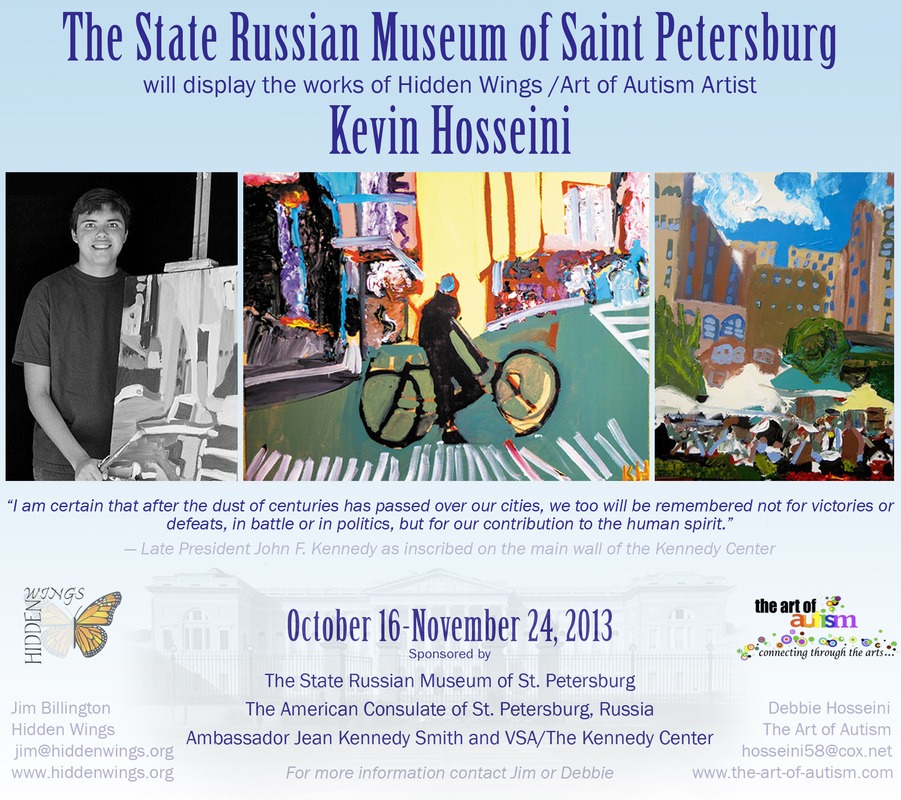 Click to view larger image of "The State Russian Museum of Saint Petersburg".